The modernist romance of a restored house in Ditchling
For an artistically minded couple looking to quit London, it's easy to see why Ditchling, near Brighton, might fit the bill. An idyllic English village surrounded by the rolling hills of the South Downs, it also comes with a rich artistic heritage that belies its small size. In the early 20th century, artist Eric Gill founded a creative community here. His legacy continues today, both at the Ditchling Museum of Art & Craft, and in the plethora of artists and craftspeople in the area.
Before their move, Kate Sherman had been working long hours managing a Cork Street gallery, which left her little time for her own painting career. Meanwhile, her husband Martin, then a sculptor's assistant, was keen to become a carpenter.
Already seduced by the village, the couple fell for this modernist-influenced house on sight. "It stood out against the cottages and Arts and Crafts houses around it," explains Kate. The vendor, a woman of 102, had commissioned it with her husband, back in the 1930s, from architects Clayton & Black, designers of Brighton's famous Duke of York's cinema.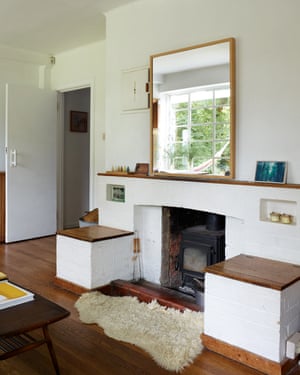 Buying from the first owner meant the house still had all its original features, including Crittall windows, oak floors and a bold modern fireplace. But like so many untouched houses it needed maintenance and updating. With Kate and Martin both forging new careers, money was tight, but the pair's approach of slow, painstaking restoration suited both their circumstances and their environmentally aware mindsets.
The house's defining feature, its metal windows, were all removed, stripped by hand and double glazed before being refitted into new wooden surrounds. The couple were happy with the house's layout as the original fold-back doors – then way ahead of their time – allow the living areas to become open plan. Their only structural job was to open up the pantry and utility room to create a larger kitchen.
When they moved they had a small baby in tow, but now have three children, Bea, 13, Ivor, 10 and Dot, 6. "It has had to be a relaxed family house, we've never been precious about it," says Kate.
In the summer months the family spend much of their time on the verandah, built by Martin. It was inspired by a family year out in Costa Rica. "Over there, outdoor spaces are an important feature of most homes," explains Kate.