David Attenborough's 'Guardian headline' halts Borneo bridge
Officials in Borneo have cancelled plans to build a bridge across the Kinabatangan river, after warnings from Sir David Attenborough and other conservationists that it would gravely endanger pygmy elephants, orangutans and many other jungle species. The news comes just weeks after the Guardian revealed Attenborough's opposition to the project.
Attenborough originally sent a private letter to the chief minister of the state of Sabah, Musa Aman, in September 2016. Last month, with signs pointing to the bridge still going ahead, the Guardian published excerpts from the letter. The authorities in Borneo have described Attenborough's now-public opposition as the final blow to the project.
"I am immensely pleased to hear that plans to build a bridge at Sukau have been cancelled," said Attenborough, who is a patron of the World Land Trust, which has saved forest in the Kinabatangan area. "This region is recognised worldwide as being a vital enclave for threatened wildlife, and it is indeed good news that the safe passage of orangutans, pygmy elephants and other endangered wildlife will not be threatened by the bridge and all that would have come with it. The decision will [also benefit] the local people who welcome visitors who come to see the wonderful biodiversity of their forests."
Datuk Sam Mannan, Sabah Forestry Department's chief conservator, announced the state government's decision on 19 April at a dinner in London held by the South East Asia Rainforest Research Partnership. "That headline broke the camel's back," Mannan said of the Guardian's coverage. "It made us understand that the issue of a proposed bridge across a protected area for wildlife is now the number one environmental concern not just in Sabah, but globally too."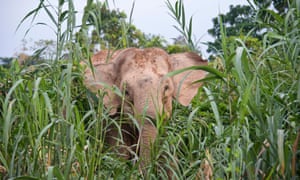 The bridge would have spanned 350m, linking the village of Sukau with Litang and Tommanggong. While many locals supported it as a means to improve travel in the region, conservationists feared it would further imperil wildlife. Sukau is adjacent to the Kinabatangan Wildlife Sanctuary, which is a popular eco-tourism site. Attenborough himself has visited the region several times.
Over the years the sanctuary has been hemmed in by spreading palm oil plantations, which have fragmented forests and blocked migratory routes for wildlife. Bornean elephants – the world's smallest – are considered endangered by the IUCN Red List of Threatened Species, with a global population of only around 1,500. Bornean orangutans are listed as critically endangered. As they have lost their habitat, both species have seen increased run-ins with humans, including poachings and poisonings.