Little lord Jesus, fruitcake-style: the worst nativity scenes of 2017
This year, the sausage roll will be hard to beat.
In the search for 2017's worst Christmas nativity scene, the infamous ad from bakery chain Greggs – where the baby Jesus was replaced with a large sausage roll – may be impossible to top.
It was widely ridiculed when it was released in November, prompted an official apology and was labelled a "sick, anti-Christian advent calendar" by a rightwing pressure group.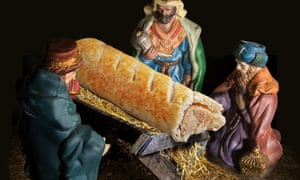 But with Christmas approaching, more contenders – some terrible, some so bad they swing back around to good – have stepped up to challenge for the crown.
Efforts have drawn attention for their odd or misshapen human figures, which inevitably give off Ecce Homo, terracotta Jesus head or Ronaldo statue vibes.
Take for example "workout Jesus".
Or Derbyshire baker Lynn Nolan's very impressive Bethlehem, made entirely from fruitcake. The six-month project involved 100kg of icing and marzipan, 250 eggs and four litres of whiskey.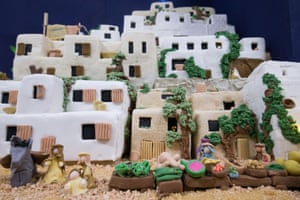 Unfortunately, fruitcake may not be the best medium for human bodies.