The week in TV: Britannia; Hard Sun; McMafia; Inside No 9
Britannia, all of which splurged on to our screens on Thursday courtesy of Sky Atlantic, is a thing of fine madness. Ostensibly, acclaimed playwright Jez Butterworth's singular take on the second Roman invasion of Britain – this is the Claudian one of 43AD, 98 years after Julius Caesar first sniffed the food and turned tail – it looks like Jez has been allowed to loose both big-budget barrels of a gloriously loopy imaginarium on history itself. If only history itself was this much fun.
Normally, of course, history is far more fascinating than we are ever taught, because it revolves around actual people rather than high generals and nebulous edicts. Britannia revolves around real people, but also around eldritch owls and flaming arrows thwonging into sacred oaks and druids, led by an unrecognisable 10,000-year-old Mackenzie Crook as a kind of Everygollum, and buryings alive, and slittings of throats and of bellies, and mistletoe and dogberries and faerie cliffs; the cumulative experience makes you feel you've turned into the kind of person who finds themselves suddenly having started drinking at breakfast.
Every guerrilla assault on the legion – turns out it's the fabled Ninth Legion, whose bones were never recovered after they ventured north of the Clyde – features an accompanying river mist, and the invaders, fierce though they are, are also (we are told more than once) shitting themselves every step into that cursed land, ruled by the dead.
The overall look is brutal, coarse, yet somehow dappled: shot in Wales and the Czech Republic, it still manages to make you yearn for a lost Kentish (Cantiani) countryside, of granite ziggurats and high elms and secret pools. And it's wildly varied in tone – dialogue can segue from the portentous ("I'll drink your blood before I dare let it pollute mine") to the infinitely casual ("So… how's it going?"), but somehow this just adds to the clever fun.
David Morrissey plays David Morrissey at his fierce, taciturn, handsome-togaed worst. Zoë Wanamaker – how she gets around! One week a beleaguered lollipop lady in Girlfriends, the next the queen of the cobalt-blue Regni tribe – is as ever magnificent in her haught. Standout in the four episodes I've seen, however, is Nikolaj Lie Kaas as The Outcast Divis (he insists, not any old outcast, but The Outcast), cast out because, with his hallucination and hypnotisms and singing to badgers, he's just too weird even for a druid. At its best – though also at its worst – it's as if Game of Thrones is meeting the more swivel-eyed parts of Nicol Williamson's Excalibur. Wild and sharp and terrific. And did I mention loopy?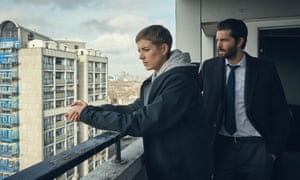 Similarly loopy, just in a not-at-all-good way, has been Hard Sun, which some must still be churning through on BBC One, though the whole thing is bingeable on iPlayer. It started gloriously, with a five-year countdown to solar-flared Earth-death, but has since moved on to interminable runnings-around after serial killers. One-time supermodel Agyness Deyn (the name is close to "lamb of God", as in fact are the looks) has the makings of a fine actor. For a lamb of God, she knows how to break solid bones. The less said about companion Jim Sturgess's runaround cockernee accent the kinder.
The main problem is that the plot betrays Luther writer Neil Cross's desire to get back to the comfort zone of London serial killers; undoubtedly he does this well, but would all our emergency services and finer sleuths really be concentrating on a couple of spree-murderous weirdos rather than, y'know… unless the whole Armageddon scenario is a viciously clever MI6 hoax, faux-leaked purely to entrap serial killers and Mr Sturgess's menagerie of accents? I'm probably giving away a big fat spoiler, but I can only say, plot-wise, Cross rather wimps out of any cleverer denouement by giving us, rather prosaically, the end of the world.
I reckon Alex Godman passed the point of no return last week in McMafia (BBC One), given free rein by Semiyon Kleiman to enable or prohibit a Mumbai drugs coup. He enables Dilly Mahmood (a splendid Nawazuddin Siddiqui), who's a welcome return to salt-of-the-earth hoods, all flashing teeth and menace and the reek of burning trash. Alex chooses the dark side to the extent that even Rebecca, the world's dimmest fiancee, is beginning to have her doubts. It's been a great slow-burn watch, and I simply shake my head at the droves who are reportedly switching off, with their goldfish attention-spans.
Having said that, there still have been no high points to match the exuberant shock we felt when David Dencik's Uncle Boris was offed so dramatically in week one. In fact I hugely miss Boris. There's talk of a campaign, among the brighter watchers of the show, to have him somehow magically resurrected, possibly paired with the late, lamented Corky from The Night Manager, and watch them break, hearts, glasses and spleens all over the new Europe. Now that I'd watch…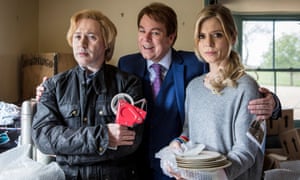 Inside No 9 (BBC Two) continues its most successful series ever. Perhaps it will never quite reach the inspired heights of last week's Bernie Clifton's Dressing Room episode, a quite beautifully judged (and touching) jewel of a half-hour's acting/writing/comedy masterclass; already, there's talk of awards. But the relatively mundane Once Removed, which aired a few days ago, still stood on commanding heights. Not only did it successfully manage to tell the story of a series of (comedy) murders backwards, timeslipping back 10 minutes every 10 minutes in a way the makers of Rellik must have gritted their teeth to see executed so well – ah, so that's how you do it. It also had one tiny gem that could be said to sum up an entire philosophy. Reece Shearsmith, being suffocated by bubble wrap, has to pause to poke quick, staccato holes in the bubbles before his hands can grab the polythene properly to rip an airhole (and let him continue on his killy spree). In this tiny, wordless mix of wanton silliness and dark peril lie oceans of singular comedy.